Trivandrum, also known as Thiruvananthapuram, is the sprawling capital city of Kerala and is known for its rich cultural heritage, picturesque beaches, and lush green landscapes.
Here we are rounding out the 9 best places to live in Triandrum.
The city offers a harmonious blend of traditional and modern lifestyles. It has a thriving economy and is home to several IT and technology companies, making it an attractive destination for professionals.
Trivandrum is also home to renowned institutions such as the Rajiv Gandhi Centre for Biotechnology (RGCB), the Indian Institute of Science Education and Research (IISER) & the Indian Institute of Space Science and Technology (IIST), and the Sree Chitra Thirunal Institute of Medical Sciences & Technology.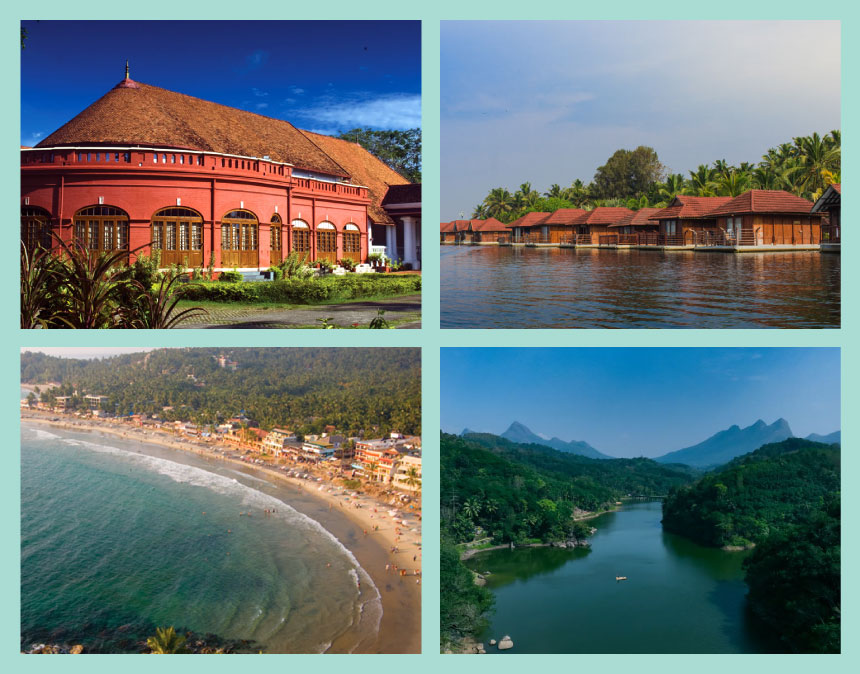 Additionally, Trivandrum is a great place to live and boasts several residential localities that cater to the needs and preferences of people from different walks of life.
The city has a warm and welcoming community, making it easy for new residents to settle in.
The crime rate in the city is low which makes it safe for families and children. 
Trivandrum offers a high standard of living, with top-notch healthcare facilities, excellent educational institutions, and a well-connected transportation system. And if you factor in the cost of living in the city which, by the way, is reasonable, makes Trivandrum an affordable, yet the ideal place to live and work.
In this article, we will take a look at some of the best areas to live in Trivandrum that offer a high quality of life, good infrastructure, and a safe and secure environment.
The best areas to live in Trivandrum
Trivandrum is a sought-after city for living due to its proximity to a plethora of facilities and amenities. Posh areas in Trivandrum like Kowdiar, Pattom and Vazhuthacaud are some of the ideal neighbourhoods for residing, as they are conveniently located near the majority of the city's offerings. There are other areas like Akkulam, Karamana and Kazhakuttam that have recently experienced a surge in construction, attracting those seeking the tranquillity of suburban living while being close to the city's IT, medical and educational hubs.
Let's take a deep dive and explore some of the best residential areas in Trivandrum.
1. Kowdiar
Kowdiar is one of the posh areas in Trivandrum and is highly sought-after due to its rich history and association with the prestigious Kowdiar Palace – the home of the erstwhile Royal Family of Travancore that was built by Sree Chithira Thirunal Balarama Varma. This area is also home to many celebrities, bureaucrats, and affluent businessmen.
Thanks to its prime location, upscale lifestyle, excellent infrastructure, and peaceful environment, Kowdiar is considered one of the best areas to live in Trivandrum.
The neighbourhood is located in the heart of the city, making it accessible to all major landmarks and amenities.
The area is known for its well-paved roads, reliable electricity and water supply, and efficient waste management, ensuring a comfortable and convenient lifestyle.
The area offers a diverse and cosmopolitan lifestyle, surrounded by lush green trees, parks, and open spaces, providing a peaceful and serene environment for residents to enjoy.
The residents of Kowdiar can also treat themselves to an exclusive and upscale experience by playing golf on the manicured greens of the renowned Trivandrum Golf Club, located on the posh Golf Links Road.
If you are looking for a home in the heart of the city, then you should genuinely consider this neighbourhood.
Located very close to the magnificent palaces and the iconic Kowdiar Road (also known as the Royal Corridor), Kowdiar will surely give you a taste of what it feels like to live a majestic life. 
2. Pattom
One of the best areas to live in Trivandrum, Pattom is widely recognised for its ease of access to various parts of the city.
The area is quite close to key locations such as the Trivandrum International airport, Trivandrum Central Railway Station, and Thampanoor Bus Station.
In addition to its location, Pattom is also home to several important administrative offices such as the Public Service Commission, Employees Provident Fund Regional Office, Kerala State Planning Board, Kerala State Electricity Board, Life Insurance Corporation of India, State Resource Centre, and Fire and Rescue Department Headquarters.
Lastly, Pattom is also home to notable landmarks, including the Pattom Palace, St. Mary's Church, Subramanya Swamy Temple, and Vaidyuthi Bhavan, making it an attractive place to live for those interested in history and culture.
Pattom is considered one of the posh areas in Trivandrum and The 44 Club, one of our prestigious residential projects is located here.
3. Chalakuzhy
Chalakuzhy is a peaceful and well-established neighbourhood in Trivandrum.
Its close proximity to The Government Medical College, Credence Hospital, GG Hospital, Cosmopolitan Hospital, Meditrina Hospital and Sree Uthram Thirunal Royal Hospital make Chalakuzhy a great place to live for medical professionals.
Families will love this area thanks to its abundance of amenities including schools such as Arya Central School, Kendriya Vidyalaya, and St. Mary's School, as well as supermarkets and medical facilities.
Additionally, easy access to major points in the city such as the Trivandrum International Airport and the Trivandrum Central Railway Station makes it an attractive place to live in Trivandrum.
4. Akkulam
Akkulam is considered a good residential area for several reasons.
It is located in the suburbs of Trivandrum, providing residents with a peaceful and quiet environment, away from the hustle and bustle of the city centre.
The area is well connected to Technopark, one of the largest IT parks in India, making it a convenient location for tech professionals to live in. Apart from the IT Park, Akkulam is also quite close to the Southern Air Command, Air Force Museum and Akkulam Tourist Village. The area also boasts good educational institutions such as the National Institute of Speech and Hearing (NISH), School of the Good Shepherd, Loyola School Trivandrum, and College of Engineering (CET) Trivandrum. Moreover, KIMSHEALTH Hospital, widely known for its state-of-the-art facilities and exceptional medical care, is located in the vicinity.
Nature enthusiasts will find this location ideal due to its abundant greenery and close proximity to the picturesque Akkulam Lake. Moreover, Akkulam is well-connected to key locations in Trivandrum through public transportation, providing residents with easy access to the city.
Akkulam is witnessing a surge in residential development, with numerous apartment complexes being built, providing residents with a wide range of housing options. If you are looking for your dream home in this location, then you should consider our project, Winds of Change – Kerala's biggest city-centric, luxury township villa project.
5. Mangalapuram
The peaceful and serene Mangalapuram is the best residential area in Trivandrum if you are looking for a life surrounded by greenery and away from the hustle and bustle of the city. It offers a tranquil environment and is well-connected to key locations through public transportation.
The Outer Ring Road, for instance, connects Vizhinjam International Transhipment Deepwater Multipurpose Seaport with Mangalapuram, thereby facilitating smooth and efficient travel between these two locations.
The area is surrounded by lush greenery and is quite close to the mesmerising Kadinamkulam Lake, Bio 360 Life Sciences Park, Vellanikkal Paramukal Viewpoint, and Kumaranasan Memorial.
Mangalapuram is also quite close to Technocity and is home to several important institutions and schools like Trivandrum International School and Sree Gokulam Medical College & Research Foundation. 
Mangalapuram also has a strong community spirit, making it an attractive place for families to live in. Our project 'Under The Blue Sky' in Mangalapuram is set in a lush green 3 acres of peace and fresh air, peace and quietude at an affordable price.
6. Ulloor
Named after the modern Malayalam triumvirate poet Ulloor S. Parameswara Iyer, Ulloor is one of the developing locales of Trivandrum city. It is famous for its devotional places which include Ulloor Balasubramanya Swamy temple, St. Mary's Church and St. Alphonsa Church.
Reputed schools like Kendriya Vidyalaya are also present in the vicinity. The nearby tourist village at Akkulam provides ample recreational and leisure activities for the inhabitants of Ulloor.  The presence of strong connectivity advantages, ample greenery and affordable housing facilities truly qualify Ulloor as a favourite destination among property buyers. 
The Rhythm of Life, our super-premium 8-villa project is located in Ulloor. You can know more about it here.
7. Sasthamangalam
Located in the heart of the city, Sasthamangalam is one of the best residential areas in Trivandrum and offers access to all major attractions across the city.
This area is well-known for the Sasthamangalam Mahadevar Temple, one of the four significant temples that the Kings of Travancore used to frequently visit.
Sasthamangalam acts as a gateway for interstate and intrastate travel because of its close proximity to Central Railway Station and Thampanoor Bus Station.
All important social infrastructures required for hassle-free living such as hospitals, schools, banks, shopping centres etc. can be found in the neighbourhood – shaping it as one of the best areas to live in Trivandrum. 
8. Vazhuthacaud
Vazhuthacaud is a well-established residential and commercial centre of Trivandrum. 
It is home to many major educational as well as cultural institutions. Maharaja's College for Women is one of the oldest undergraduate and postgraduate women's colleges also located in this area. Additionally, Cotton Hill Girls Higher Secondary School, the largest girls' school in Asia is located here. 
Additionally, the All India Radio, Trivandrum Club, Sree Moolam Club, Trivandrum Zoo and the proximity of medical and financial institutions make Vazhuthacaud a residential area that deserves your consideration. 
9. Karamana
Karamana is a suburban area that is surrounded by several places of cultural, historical, and recreational significance.
The Attukal Bhagavathy Temple, a famous Hindu temple is located in the area and attracts devotees from across the state. Widely known for its beautiful scenery and water sports activities,
Kovalam Beach is only a 30 mins drive from Karamana. 
The suburban area is also quite close to Trivandrum Central, the main railway station in the city, which provides connectivity to other parts of the state and country.
Karamana also offers access to good healthcare and education facilities which makes it one of the best residential areas in Trivandrum.
Location Matters : Why Trivandrum?
When you're looking to buy a new home, location matters more than ever. It's not just an address, it's a symbol of prestige that affects your home's worth. Your home may change over time, but its location is unalterable.
Therefore, it's essential to ensure your new home is located in a safe neighborhood with easy connectivity across the city. Why choose Trivandrum for your next home?
Kerala's most fascinating city is Trivandrum. It has a rich history going back 10th century AD and was named as the capital in 1729 during Travancore's reign.
Trivandrum is an educational hub with well-known schools and colleges.
It is also a healthcare and tourist hub. It is one of the best living destinations among 23 prominent cities in India.
It has won the annual survey of India's city-systems (ASICS) three times in the last 10 years.
It stands out from other Kerala cities due to its superior infrastructure, well-maintained roads, effective utilities, good governance and law enforcement.
Trivandrum City is rapidly transforming into India's fastest-growing IT hub, with TechnoPark and the upcoming Technocity, providing job opportunities and attracting professionals with increasing disposable incomes.
This has led to a surge in demand for high-quality residences, which have been met with enthusiasm by developers. The city is situated in seven picturesque hills, stretching from the Arabian Sea to the Western Ghats.
Vertical and horizontal expansion is taking place, and as suburban spaces are integrated, construction is flourishing throughout the city.
The city is home to some of the most sought-after residential zones in the country, which are characterized by their peacefulness and minimal pollution, as well as their robust social infrastructure.
Furthermore, the city's connectivity is unparalleled, with easy access to major city intersections, railway lines, bus stations, international airports, and the IT hub Technopark.
Accommodation is also available in close proximity to well-known educational and medical facilities, as well as shopping centers and entertainment hubs.
There's no better time than right now to invest in the home of your dreams.
With unbeatable living costs and affordable property prices, you're in a great position to invest in a home in the iCloud Homes area.
Invest in a home in one of the highly-regarded residential zones in Trivandrum and your dream home will be waiting!
Conclusion
With its rich cultural heritage, abundant natural beauty, and numerous amenities, there are many benefits to living in the city. Trivandrum has a well-developed transportation system, including a busy railway station, which makes it easy for residents to travel to other parts of the state and country. The city also has a thriving economy, with a mix of government and private sector jobs, which provides residents with good employment opportunities. The area's proximity to the beach, temples, museums, and parks also provides residents with ample opportunities for recreation and relaxation. Simply put, this city has something for everyone.
At iCloudHomes, we pride ourselves in creating redefining living spaces that you can call home. A decade of unswerving passion and commitment has empowered us to be one of Kerala's most sought-after and trusted builders.
So, if you are looking for a place to call home in Trivandrum, all you need to do is reach out to us at marketing@icloudhomes.in. Go ahead and take the first step towards owning your dream home in some of the best areas to live in Trivandrum today!