Rich in vibrant cultures and lifestyles unique to itself, Trivandrum is easily one of the most sought-after cities in India.
The city attracts a plethora of investors and professionals from across the world every year for work and settling down.
As a result, the real estate industry is always on the rise in Trivandrum.
As for settling, Trivandrum is an abode for various government establishments like Technopark, Techno city, lot of job opportunities, shopping malls, international airport, Vizhinjam port and numerous alternative projects lead to the huge range of people within the town who later turn out to be permanent settlers.
The advent of Techno Park, Techno city has converted the area to a bustling and vibrant hub of activity and brings along a rich population of young settlers.
There are also families who prefer the city for the education of their children in the best of institutions and international schools.
Now the city has also emerged as one of the biggest ever IT hub of India over the years making it a sought after destination by professionals all over the world to come and settle down with their family.
Are you planning to buy an apartment or a luxury villa in Trivandrum but aren't convinced regarding the investment?
Here's a list of reasons why Trivandrum is the best Investment Destination in the real estate sector.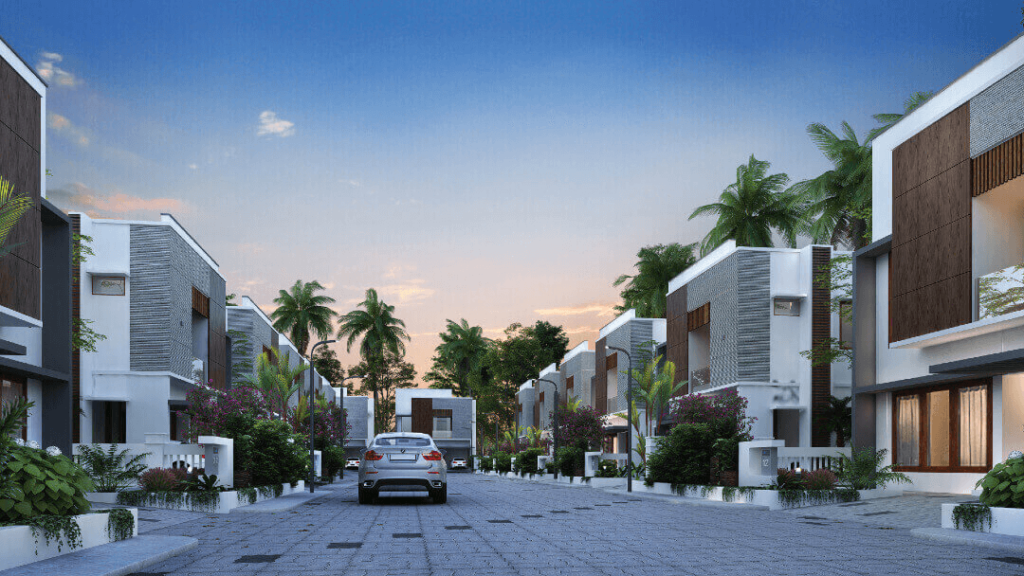 Rapid Real Estate Growth
It's no secret that the real estate market of Trivandrum is one that's always experiencing rapid growth.
Every year, a large number of people move to Trivandrum for jobs, opportunities, and better quality of life.
And as the demand increases, the market grows.
According to recent data published by National Housing Bank as part of NHB RESIDEX, it has been revelaed that there has been a steady increase in housing prices in the past 3 years starting from Jun 2018.
Infact the trend in rising housing prices is steadily increasing since 2013.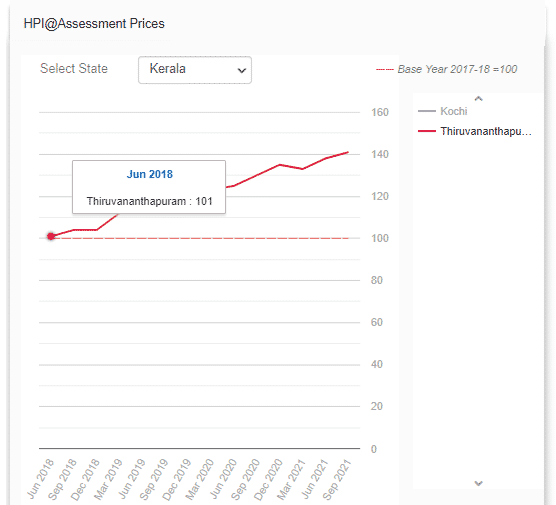 Thiruvananthapuram (HPI@assessment prices)
| | |
| --- | --- |
| Overall Carpet Area price Year | Year |
| Rs 4,035/ sq ft | 2013 |
| Rs 6,848/ sq ft | 2020 |
The data confirms the fact that the overall carpet area price has increase about 70% which is 10% more than cochin making trivandrum one the best real estate investment destination in India.
According to real estate experts and major developers price per square feet will soon touch 5 figures in the coming years which will in turn there by doubling the invested amount as well as bring in a big boom to the real estate market in Trivandrum.
Talking about the luxury and ultra-luxury markets this dynamic city is changing with new residential projects being launched each year.
Major real estate companies are coming up with new premium properties in Trivandrum with luxury amenities and well-crafted properties.
Numerous Options
As mentioned before, Trivandrum sees steady migration every year.
As a result, Trivandrum is brimming with gated community villas across affordable, mid-range, as well as luxury segments.
The variety you get at every price point is reason enough for the city to be one of India's major real estate hotspots.
Several real estate developers flock to Trivandrum, too, with the intention to make the most of its burgeoning population.
So, you always have various builders and residential projects to choose from.
Access to Everything
Trivandrum has everything for everybody!
Trivandrum ensures that you and your family members do not have to relocate for better facilities.
You have access to top-rated hospitals, Asia's biggest mall, exquisite temples, etc. all in one city!
Like most of the places of Kerala, Trivandrum is also blessed with gorgeous surroundings & water bodies.
The city is known for its less-polluted environments and good climate.
Tourism
Nestled on 7 undulating green hills, Trivandrum is blessed with a bounty of natural beauty spots including a number of attractive beaches.
Having been the capital of the erstwhile Kingdom of Travancore, the city is also home to numerous beautiful old buildings and tourism spots for both domestic and international tourists.
Future Developments
Kerala Government has proposed a plan to develop a metro rail system in Trivandrum which is planned to be named as "Trivandrum Light Metro".
It is going to be one of the major developments in the city, enhancing the real estate industry and economic growth.
Also, the popular Vizhinjam International Seaport Project will act as a game changer in the growth of the city, once when the work gets commenced.
Economy
Trivandrum is a major aerospace research centre in India.
ISRO's biggest Vikram Sarabhai Space Centre and several state-owned ISRO centres such as Thumba Rocket Launching Station, BrahMos Aerospace Limited and Liquid Propulsion Systems Centre are all based in Trivandrum.
The city's other major industries include Travancore Titanium Products, Kerala Automobiles Limited, MILMA, Keltron, Trivandrum Rubber Works and HLL Lifecare Limited.
Trivandrum is a major IT and ITES hub in India.
The city houses major IT giants like Oracle, TCS, Infosys, Ernst & Young, UST, Infosys, Nissan Digital and McKinsey & Company.
Technopark is the largest IT Park in India in terms of built-up area.
It is the largest employment campus in Kerala with 60,000 IT/ITES professionals and more than 400 companies.
Other media and industrial campuses include Kinfra Film and Video Park, Kinfra Apparel Park and Chithranjali Film Complex.
Several new IT, biotechnology and industrial campuses like Technocity and Bio 360 Life Science Park are proposed to further boost the economy and employment opportunities.
Technopark
Trivandrum's IT hub, Technopark, is in an expansion mode and touted to soon become the largest in the country.
There are over 350 Indian and multi-national companies operating out of Technopark currently, and employing over 60,000 professionals from across the country.
This translates to a greater need for homes to house the growing population.
Premium Amenities
Trivandrum's inviting atmosphere has made it home to a number of foreign nationals as well as Indians with a global mindset.
The city houses folks who are well-travelled and would like their home to emulate those of the world.
This has pushed the real estate developers in the city to build villas with world-class amenities.
So, facilities like indoor gyms, swimming pools, community areas, private gardens, and landscaping are commonplace in Trivandrum .
Wholesome Community Living
Trivandrum  is one of the most cosmopolitan cities of India that boasts of a multi-ethnic and diverse populous.
So, when you plan to buy a villa in Trivandrum, one major advantage you experience is connecting with people from all walks of life and expanding your social circle. This enables you and your family to have a rich lifestyle.
Trivandrum is growing at a rapid pace, incorporating more and more areas within its folds every year. When it comes to buying a villa, settling down, and investing in a better future, there's no way you can go wrong with Trivandrum .
If you are looking for your dream villa in Trivandrum , iCloudHomes is your best bet.
IGBC certified icloudHome's Villas constructed in the heart of Trivandrum that's equipped with excellent modern amenities.
Hop on to icloudHomes and book a visit today.