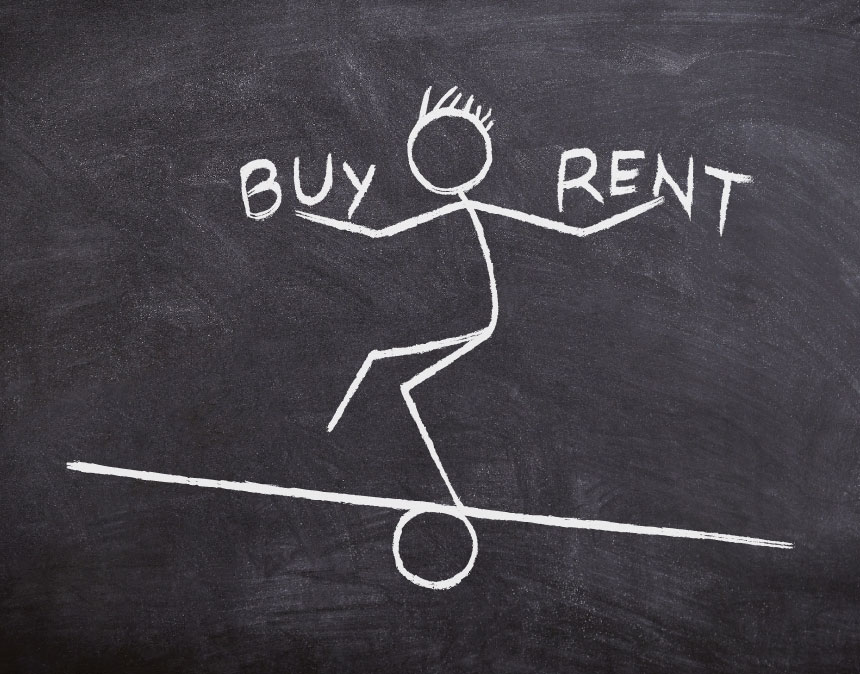 "Should I rent or buy a house?"
We know this is a difficult question to answer and arriving at a definitive answer is not that simple. After all, it necessitates extensive financial planning.
Now there are some people who take great pride in being homeowners, while others prefer to live in rented homes in order to avoid making long-term financial obligations.
Deciding to rent or buy a house is a significant decision that impacts your financial health, lifestyle and personal objectives. Both options demand a consistent source of income (so you can afford the payments and related expenses) and may also require a certain degree of effort to maintain the place.
To rent or buy a house?
Now let's come to the most important question. Which is the right decision for me? Should I go ahead with a home loan or a rented house? With the rising cost of living, inflation, and the focus on factors like affordability and job security, we are left wondering whether now is the best time to buy or rent. The fact that you are considering making a decision implies that you are in a position in life where you must take a responsible decision.
So, let us break down some key elements to guide you and make your decision-making process easier.
Read on to find out.
You have two choices when it comes to owning your own home. Either you handle the financing yourself or you obtain a home loan from a financial institution. In the case of a home loan, you will still need to save at least 40–50% of the base price of the property you intend to purchase. The rest is yours to borrow. To pay the home loan EMIs, you must have a consistent source of income. Otherwise, it would be better if you keep renting. It would be wise to take your time to establish a credit history and raise some capital in order to be able to purchase a property whenever you are ready.
b) Freedom vs. Commitment
Choosing a home loan or rented house ultimately boils down to numerous factors.
You have more mobility when you rent a place. However, living in a rented space may be difficult if you do not want to shift around every time your landlord asks you to. You might wish to move out because your contract is up, you might desire something better, or your landlord might be selling the house and need you to leave. Rent continues to rise, and if your income isn't rising at the same rate, you will be compelled to go beyond your preferred area for a less expensive place.
Meanwhile, purchasing a home gives you stability since you can stay entrenched in a place. Even if your EMIs are much greater than rent, they won't change over time. Furthermore, you must have sound money management in order to make your EMI payments on time when you purchase a home. Buying a home will shock your finances now, but it will get stronger with time as your property's equity develops.
Most importantly, along with wealth growth, owning your own house provides independence and security for you and your family. Since it is your property, you are free to use it in whatever you like.
c) Regarding investment
A 2 or 3-BHK property will cost you as much to rent as the monthly EMI payment. Renting will also incur an additional 10% hike every year – something your EMI won't. The cherry on top is that as you increase your EMI amount, the total number of EMIs will decrease, however, the rent amount will continue to rise each month.
With your own property, you won't have to worry about dealing with other expenses like house rental restrictions, painting charges while vacating, etc.
d) Tax Benefits
Yes. This is an important reason why people think buying a house is a smart idea. With tax concessions on the principal amount, the interest you pay, plus some additional perks if you are a first-time buyer, taking a home loan is certainly a good strategy to reduce tax and own a house.
Some tax benefits that you can claim:
Section 80C – For the principle paid, you can claim a tax deduction of up to Rs. 1.5 Lakh. It can also include stamp duty and registration fees, however, you can claim them only once.
Section 24 – Deductions on the interest amount of up to Rs. 2 Lakh. You are eligible for this deduction only if it only took less than 5 years to construct the property. In case it wasn't, you can only claim up to Rs 30,000.
Section 80 – Every financial year, first-time homeowners can claim an extra Rs. 50,000 in deductions on their interest. However, the total loan amount cannot exceed Rs. 35 Lakh and the price of the property must fall within Rs. 50 Lakh.
e) Pride of Ownership
The pride of being able to say you own something is one of the main reasons individuals purchase homes. Even if it is a little apartment or an independent villa, it's yours and yours alone, and you can do with it as you please.
Furthermore, by being an owner, you truly realise what it means to live on your own terms. You can play loud music, cook your favourite cuisines, install permanent fixtures, paint the walls any colour you choose, and decorate the house however you like. And once you settle in, you get to know your neighbours, make new friends, and become a part of the community that ensures your family remains happy and safe.
f) Money Value
Beyond pride of ownership, it's important to realise another benefit – its monetary value. Although the value of other investments like FD, Mutual Funds, etc. often fluctuates, real estate values have consistently appreciated. This means that the value of your home can increase over time, thereby growing your investment.
Once you own one house and build some equity you may also be in a financial position to buy another and rent it out. More importantly, your home is also a legacy asset which can be passed down to the next generation.
Bottomline
So what is it going to be? Home loan or rented house? Let us sum it up like this:
Buying your ideal home is definitely a goal you should endeavour to achieve. Careful planning is paramount, or else, you run the risk of incurring huge debts and ultimately fail to set some money aside for necessities like your retirement or your child's education.
That said, despite the stress of debt repayment, owning a home fosters accountability and ensures steadiness at work. In addition to the game of numbers, there's an intangible element – a sense of comfort and security – that we feel inside our own house. Be it painting the walls, or taking some creative liberties with decoration, you have the freedom to add that personal touch for a homey feeling.
At iCloudHomes, we pride ourselves in creating redefining living spaces that you can call home. A decade of unswerving passion and commitment has empowered us to be one of Kerala's most sought-after and trusted builders.
Take the first step towards owning a house and enjoying a lifestyle you have always desired. Send an email to marketing@icloudhomes.in for more information.