If you value a lovely ambience for bubble baths or mirror selfies, a bathroom shouldn't only be practical – it needs to be clean and organised. You'll be astounded at how much a cosy chair or beautiful window curtains can warm up the room (and lift your spirits!).
We've gathered some amazing bathroom design ideas to help you turn your bathroom into a haven for spa-level relaxation and style in your house. Whether you are planning to spruce up the main bathroom or are starting a full-scale renovation, we have you covered.
Get ready to be inspired. Here are 20 must-try bathroom design ideas to create a setting that's both captivating and calming.
Let's start.
Inspiring Bathroom Design Ideas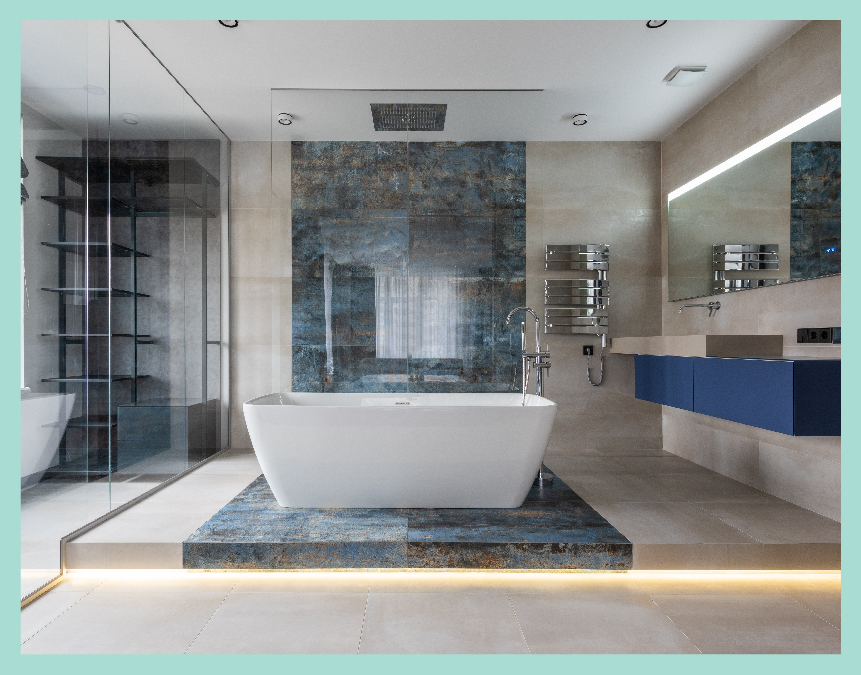 Continue scrolling to discover 20 ingenious ideas to add more charm and practicality to your bathroom without sacrificing an inch of style.
1. Include Café Curtains
Add Café style curtains to the windows for a privacy solution that doesn't block off natural light.
2. Bohemian-style Bathroom Design Ideas
Freestanding bathtubs and vessel sinks, as well as eclectic and bohemian accents like leather cabinet knobs, patterned concrete tile, and a traditional carpet seamlessly blend with contemporary features to give your bathroom a rustic look.
3. The classic black-and-white treatment
Covering the walls of the bathroom in white subway tile and complementing the same with tuxedo-crisp black trim with matching black and white patterns on the concrete floor can elevate your bathroom to the realm of the genuinely trendy.
4. Adding a wooden touch
Wood-framed mirrors and a wood-supported vanity add a hint of warm colour to the otherwise cool and bright appearance of a white bathroom setting. Complementing the setting with a grey vanity stand or a double sink stands out against the vivid background.
5. Brass-inspired fittings and mosaic tile design
A modern cottage bathroom idea that features a mosaic glass tile wall, soaking tub, brass bathroom fittings and glass shower enclosure. The setting complemented by smoky granite or marble tile for the floor makes the whole bathroom seem incredibly welcoming.
6. A Calming Aura
The black-and-white mosaic tile floor contrasts beautifully with the light blue vanity and brass drawer knobs. Potted plants on top of the sink or near the window complete the overall natural look of the bathroom.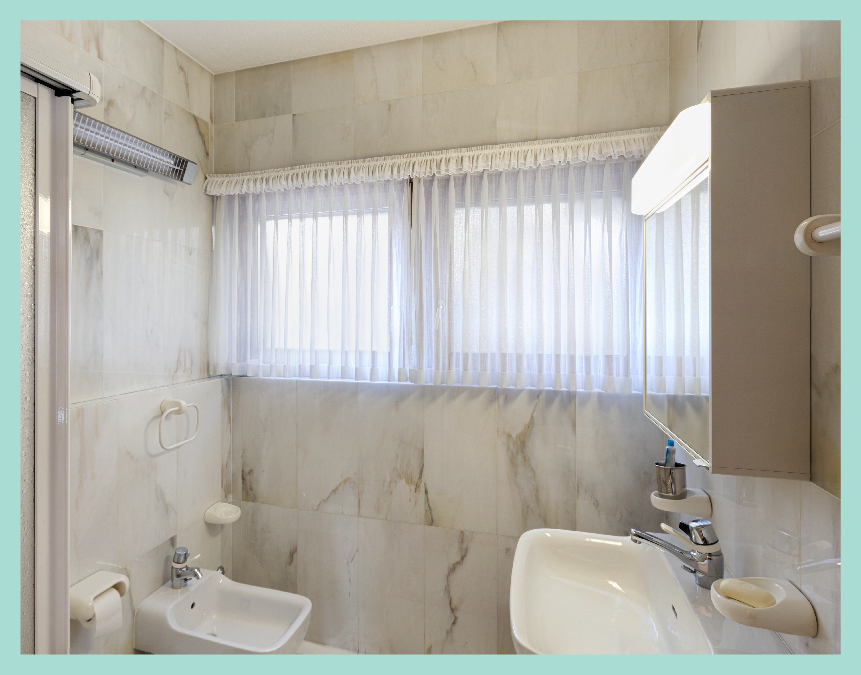 7. Attractive archways
Implementing Moroccan-style influences in the bathroom such as wide arches, borders across the walls and unusual wall tile patterns can easily make your bathroom stand out from the ordinary.
8. Inspired by luxury
For the ones who enjoy plenty of space, the spacious main bathroom is ideal. Luxury can be emphasised with the soaking tub, porcelain tile floor, quartz countertops, and marble backsplash. Coupled with white wooden installations can add a luxurious feel to your bathroom.
9. Repurpose old furniture
If built-in shelves are not an option for you, whether it be due to renovation costs, rental restrictions, or personal preference, consider adding an unused armoire for extra storage. This unique piece, paired with a bold wall tile design and a contemporary aubergine stool, can bring both a classic and multifarious touch to your bathroom.
10. Chandelier for that mesmerising appeal
If the space permits, go ahead and add a stylish chandelier to the room. The fixture brightens the place and adds visual appeal with no parallel.
11. Floating shelves for more storage
A practical approach where you replace the towel rack with floating shelves. Floating shelves give more storage space and with the right colour and fixture designs, they can effortlessly complement the overall aesthetics of the room.
12. Striking floors Bathroom Design Ideas
Floors are the focal point of the bathroom and adding going with a geometric black and white floor tiling can raise the bar to a whole different level. A natural, warm aspect is imparted to the room by the wooden, flat-panel vanity drawers. Complementing the tiles with white walls and subway tiles along with black metal bathroom fittings can provide a sense of timelessness to your bathroom.
13. Make it a place to relax and unwind
Make your bathroom your sanctuary of tranquillity with a modern glass shower enclosure, a freestanding soaking tub, white dual-sink vanity with a blue base, white marble counters, and a subway tile backsplash. Adding a cosy chair can make it a go-to place for reading books, dressing up, or even talking on the phone.
14. Install a large mirror
Enormous mirrors in the bathroom open up the room and give the impression that the room is larger than it actually is. Moreover, by reflecting natural light, the mirror can light up the room even if it has a small window. Incorporating a dark, reclaimed wood vanity with two sinks and a caged chandelier in black to contrast with the bright white walls can make the bathroom feel more spacious and roomy. If you want a bathtub, a spherical, metallic tub would complete the look.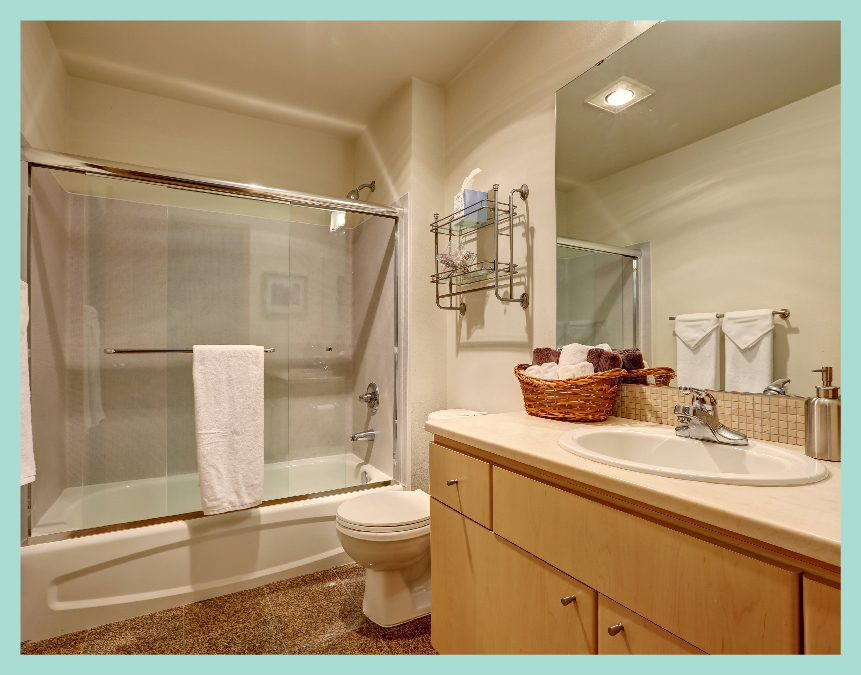 15. Illuminate the place with natural light
Tiled flooring, a white chair rail, a shower with a glass door, a grey vanity with glass knobs, a freestanding bathtub, a skylight, and a large window that faces a scenic setting can make you spend your whole day in the room and enjoy the blissful solitude.
16. Pedestal tub surrounded by marble
A beautiful pedestal bathtub with matching solid marble surround is an all-time classic and one of the best bathroom design ideas for the ones with space limitations. Small white floor tiles and grey rectangular tiles on the backsplash of the vanities complement the grey marble with the primarily white room. A mirror with a black border can add a striking balance to the soft colours of the room. Pedestal bathtubs have small footprints, making them ideal for exposing the stunning flooring design that you may want to try.
17. The Art-Deco influence
In this idea, the bathroom's focal point is a mirror with an art deco vibe. Coupled with a striking, black tile wall, the mirror will contrast beautifully and induce a sense of timeless elegance. A vessel-style sink in a floating counter adds a touch of elegant simplicity, while farmhouse-style vanity fixtures can offer plenty of light.
18. Traditionally American
Take a walk down history with a clean black-on-white style look that's complemented by the black-painted clawfoot tub. This setting blends with the character of an ancient New York farmhouse. Complete the look with white walls, black octagonal tile flooring, and a rug that come together to create an eclectic environment with loads of vintage flair.
19. Go for an industrial look
Use industrial elements such as exposed pipes, metal fixtures, and concrete to create an edgy and modern look in your bathroom.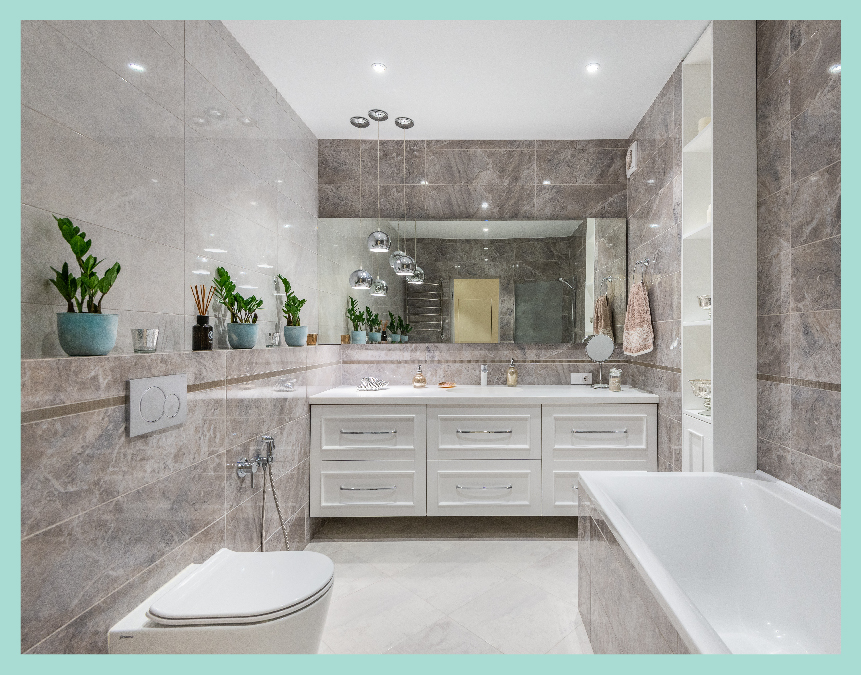 20. Play with colours
Use bold and bright colours to create a statement in your bathroom. You can paint the walls in a bright colour, add colourful tile accents, or use colourful fixtures.
Conclusion
When it comes to bathrooms, don't let the function-first trend fool you. A well-designed bathroom is one of the key elements, yet often overlooked elements of a home. Whether you are buying or renting, the bathroom is one of the most frequently used rooms in the house. So why wouldn't you want it to look incredible? Go ahead and use some of the bathroom design ideas that we have shared with you and transform the room into a lively space that matches your style and persona.
At iCloudHomes, we understand that bathrooms are much more than a space to clean ourselves. It has the potential to be your in-home wellness centre where you can unwind and rejuvenate. And it all depends on not just how bathrooms look but on how we design them. This attention to detail coupled with a decade of unswerving passion and commitment to deliver one of the finest homes money can buy has empowered us to be one of Kerala's most sought-after and trusted builders.
Take the first step towards owning a house and enjoying a lifestyle you have always desired. Send an email to marketing@icloudhomes.in for more information.