Bathrooms come in various shapes and sizes, but many of us are looking for ways to make small spaces more functional and stylish.
From tile options to storage solutions, finding the right ideas can be challenging. We've compiled some of the best ideas and expert advice to help you turn your small bathroom into a beautiful and functional space that will be the envy of all your friends.
So if you have a small bathroom then there is no need to overlook big design opportunities. Get inspired by these exquisite yet clever small bathroom designs ideas that can make a compact space feel not just bigger and well-functioning, but super-stylish too.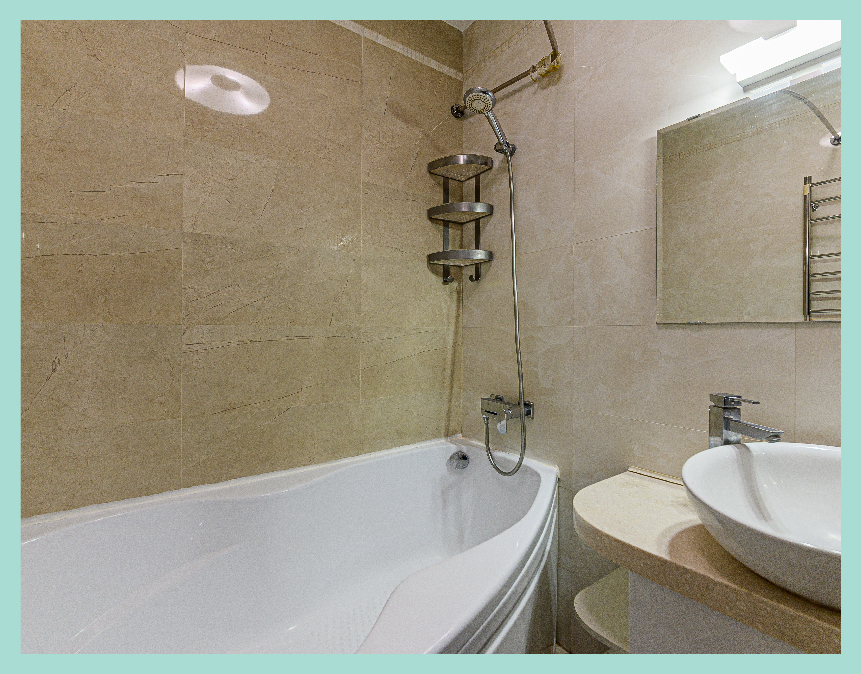 Small bathroom designs for your inspiration
1. Experiment with a shower bath
The type of shower you choose for your bathroom can be influenced by the size and layout of the space. If you have a small bathroom layout, a shower over the bathtub can be a practical solution that allows you to have both a shower and a bathtub, especially in a family bathroom. In this case, L or P-shaped baths with a larger shower area can be a good option.
That said, you don't have to give up on the idea of a freestanding bathtub and shower combination. Traditional boat bathtub models can work well with a riser kit or ceiling-mounted shower. To prevent water splashing, pair it with an oval shower ring and curtain.
2. Don't forget the finer details
In a small bathroom, the finer details can make a big impact on the overall look and feel. Coordinating handles on your storage cabinets can add a touch of elegance and should match the overall style of the bathroom – sleek curved D handles for a minimalistic look or traditional knobs for a classic look. To enhance the sense of space and reflect light, use illuminated mirrors and glossy surfaces such as cabinets, tiles, and floors.
3. Play with tiles
The perception of space can be manipulated with tile design. By using the same tile design on the side of the bathtub and the wall, it creates the illusion of a larger space. Even if a freestanding bathtub is not an option, a standard fitted bathtub can be dressed up with tiles to create a luxurious look.
You can also consider bath panel tiling. It is essentially adding tiles to the side of the bathtub with a specialised tile backing board which won't warp. It requires more effort, but it can be worth it for the added design element.
4. Choose a cool colour scheme
When decorating a small bathroom, keeping it simple with soft, natural shades can be a great idea. Opt for furniture and accessories with clean lines, and minimise clutter to create a sense of space. Neutral colours like taupe, cream, and white are particularly popular in smaller bathrooms, as they create a brighter and more spacious look. Choosing light shades for your wall and floor tiles will also help to create a warm and harmonious design with timeless elegance.
5. Install a false wall shelf
In a small bathroom layout, building a half-height false wall can be a great way to hide unattractive pipes and create additional storage space. Once tiled, this feature can be used to display decorative items such as plants or artwork, without taking up valuable floor space.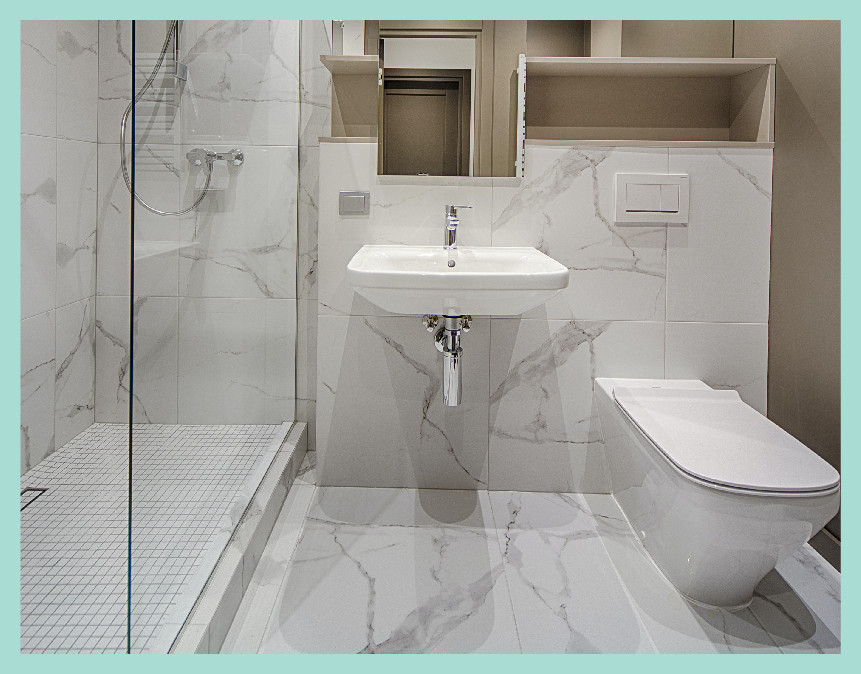 6. Add character with faux panelling
Adding panelling to the walls can create a period look and add character to a small bathroom. Simple portrait panels or a ribbed effect can be used to create a more ornate look. Dark colours can also be used to make a small space feel cosier.
7. Utilise floating vanities to save floor space
Mounting your vanity to the wall and clearing the floor space underneath can make your bathroom feel larger and less cramped. Choose a floating vanity with ample storage for towels and toiletries, paired with a basin that sits on top. Adding gold hardware and smart accessories like a Pimlico bathroom wall light can elevate the overall aesthetics and give your bathroom a spa-like feel.
8. Invest in large mirrors to open up the space
One of the more popular small bathroom designs involves hanging a large mirror, or even multiple mirrors, above your bathroom basin. A large mirror can reflect natural light and make the whole space feel larger. This is a popular trick used by interior designers to make a room appear bigger. Go for a bold, statement-making mirror in your bathroom.
9. Create the illusion of space with an oval bathtub
Don't be afraid to include a freestanding oval bathtub in a small bathroom. An oval bathtub can save corners and create the illusion of more space. A shallow shelf to hide waste pipes is also a useful addition to add extra surface space for display items such as bath salts or plants.
10. Use matching tiles on the floor and walls
Using the same tiles on the walls and the floor can make your small bathroom look bigger. Opt for large-scale wall panels or matching floor and wall tiles for a seamless look. Using natural stone can add a spa-like touch and a continuous run of tiles can create a spacious feel. If natural stone feels too neutral, you can add personality to your bathroom by incorporating colour pops with towels, storage, and accessories.
11. Consider a slipper bathtub
If you don't have enough room for a standard roll-top bathtub, consider a slipper bathtub as an option. Many slipper bathtubs come in shorter versions and can add a touch of elegance to your bathroom. Additionally, roll-top bathtubs are now available in smaller dimensions.
Even with limited space, you can still have a luxurious bathtub by choosing a compact model that ranges from 1200mm to 1500mm in length. Make sure to leave around 100mm on either side of the bathtub to prevent a cramped feeling and for easier cleaning access.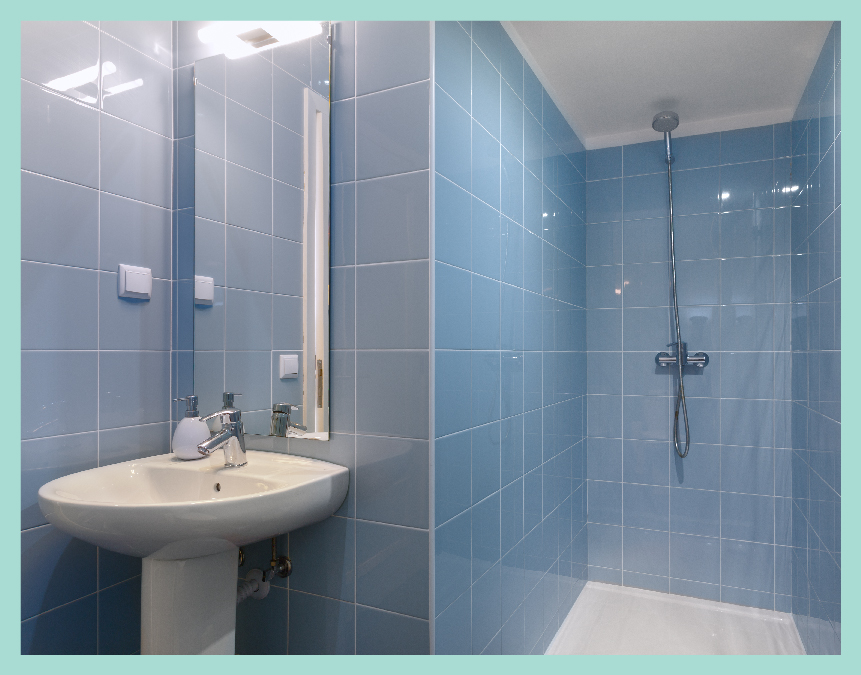 12. Use paint to add colour to a small space
Painting fitted furniture in a bathroom can be an opportunity to introduce bold colours. Painted bathroom panelling is still a popular trend as it allows you to combine beautiful and contrasting colours. Another option is to paint an old bathtub to add colour to your bathroom.
13. Keep the bathroom space uncluttered
Organising a small bathroom requires thoughtful planning, and it's essential to keep the space clean and uncluttered. Storage solutions are an essential part of a good design, and if possible, opt for integrated storage that allows air and energy to flow freely. When designing a bathroom from scratch, consider all possible options, such as a full-height mirrored cabinet that spans an entire wall and provides ample hidden storage for all your essentials.
14. Use patterns to create a focal point
A small bathroom can be characterless, but you can rectify this by adding a single wall of patterned tiles strategically placed to draw attention to a feature wall. Patterns and prints play a big role in bringing personality to a bathroom, and they can inject life into small spaces. Don't be afraid to experiment with different patterns, such as stripes, monochrome patterns, or bold colours. Opt for a Victorian-inspired patterned tile or a trellis pattern for a timeless look.
15. Don't forget to look upwards
If your bathroom has high ceilings, make use of the extra space by adding features that encourage you or your guests to look up. Consider hanging a chandelier or a set of decorative lights. Make sure to check the IP ratings for splash and dust resistance.
Conclusion
Small bathroom designs have undergone a significant evolution in recent times, and with the pandemic leading to more time spent at home, this trend is expected to continue well into 2023 and beyond.
Gone are the days of utilitarian and minimal designs, as small bathrooms are now being designed with softer lines, organic shapes, and warmer colours. After all, whether you own or rent your home, the bathroom is one of the most frequently used rooms and should reflect your personal style and aesthetic.
At iCloudHomes, we understand that the bathroom is more than just a space for personal hygiene. It has the potential to be a relaxing and rejuvenating in-home wellness centre. Our attention to detail and decade-long commitment to delivering high-quality homes have made us one of the most reputable and sought-after builders in Kerala.
Take the first step towards owning a home and achieving the lifestyle you desire. Send us an email at marketing@icloudhomes.in for more information.