The kitchen is widely considered to be the heart of the home. So you should consider pouring some additional decorating love into that space. After all, it's where the house comes together – be it for preparing food, hosting guests or bringing the family together on those lazy Sunday mornings for breakfast.
So if you think that your kitchen — the hub of your house — needs a functional or aesthetic makeover, then look no further. This article features a creative roundup of 15 kitchen ideas that will certainly inspire you to transform the look and feel of your kitchen.
Let's start!
Fabulous kitchen ideas that will make you want to redo yours.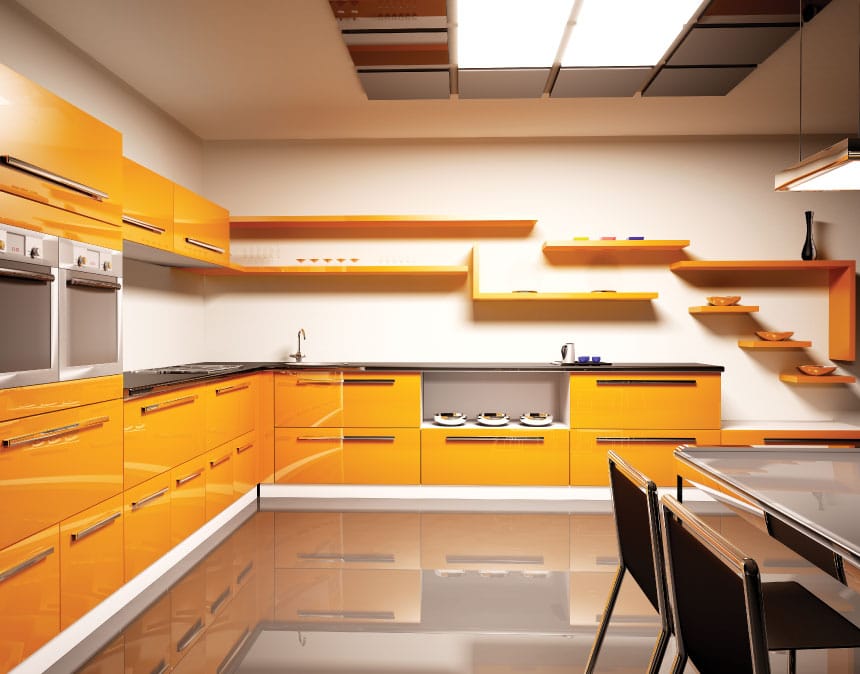 1. Use yellow to introduce positivity and warmth
When it comes to how your kitchen design will look and feel, colour schemes are crucial. Yellow colour in a kitchen exudes a feeling of warmth and richness – regardless they are utilised in large or in small amounts.
2. Add some French inspiration
Modern French country kitchen designs are all about creating a calm, welcoming atmosphere without going all out with a countryside appeal. The kitchen cabinetry can be kept simple yet modern, so as to let the materials stand out on their own. At the same time, add balance to the whole setting with classic fixtures like an antique butcher's block, open shelves, or by decorating the kitchen cabinets.
3. Focus on the ceilings
Intriguing ceilings with interesting shapes and materials can achieve a degree of sophistication and complement the architectural features in the room. Moreover, an interesting ceiling is sure to get your guests talking.
4. Hanging storage spaces
You should consider looking skyward for missing possibilities when it comes to adding more storage. Ceiling-mounted storage is a terrific way to incorporate elements of a professional kitchen into the home. It's also a brilliant way for keeping your favourite necessities accessible but out of the way. You can use plants, glasses, or cookbooks to blend the storage with the aesthetics of your kitchen.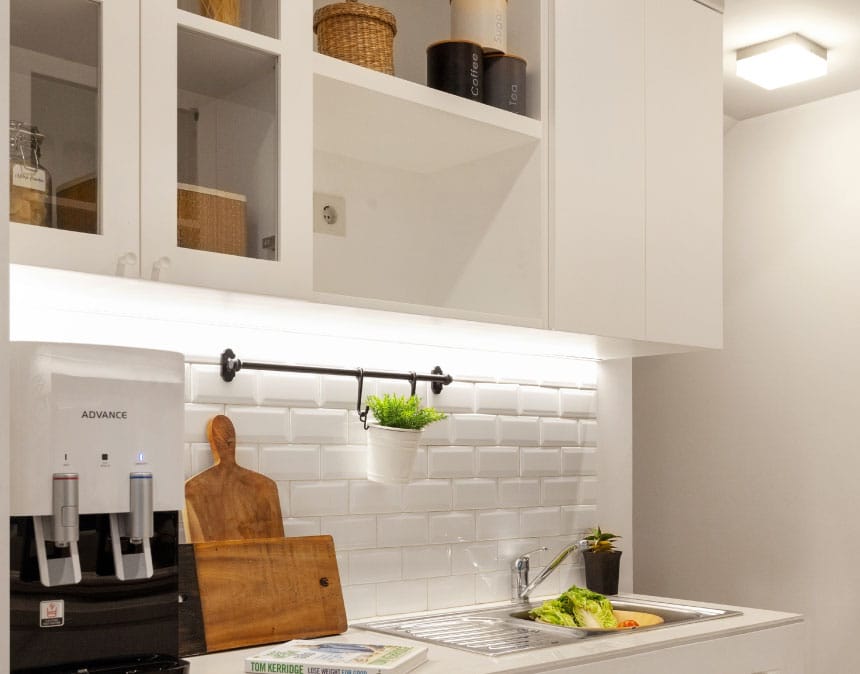 5. No place to hide things? Put them on display.
No room for a pantry or dresser? Though on a smaller size, glazed wall cabinets are just as attractive and offer just as many display options. To avoid the idea that your kitchen is fitted with off-the-mill furnishings, choose a standalone piece that serves more as a focal point than practical storage. Simply put, a cabinet that grabs eyeballs just for its eloquent looks.
This idea is perfect for walls without windows. Add artisanal packaging and colourful dishes inside the cabinet to complement the look.
6. Consider investing in chic seating
When it comes to bar stools, it can be a single or two-stool perching point. You can even consider having a mini breakfast bar. People are slowly realising that they don't always need large breakfast bars in addition to a kitchen table. They do, however, are now open to a small-sized bar which offers comfortable seating for a quick cup of coffee or to check email.
7. Bring back the old wallpaper
A number of home and kitchen decor businesses are promoting the comeback of wallpaper in the kitchen. Modern designs are included in kitchen wallpaper ideas, but those that make the biggest impact have a heritage appeal – appealing to the urge to make kitchens feel just as ornamented as living rooms.
Kitchen ideas based on wallpapers can be challenging, so it's important to make sure your choice is moisture-resistant or that your designer has found a way to make the wallpaper you really want moisture-resistant.
8. Build a chef's kitchen
If cooking is truly your passion, then it makes total sense that your kitchen ideas should be centred around functionality instead of form. Everything in a chef's kitchen should have a purpose and a location. You should be able to reach whatever you need almost without thinking about it so that you can focus on your guests as well as your cooking.
The growth in interest when it comes to chef's kitchens in terms of their layout, the appliances they feature, and their practicality-first design approach stem from the growing popularity of home cooking during the pandemic.
9. Rethink the layout with respect to the windows
The success of a kitchen decor is determined by the room's layout. The utilisation of the space is the most crucial factor you need to take into account. If your kitchen is close to a garden or has a beautiful view, reorient the furniture and make sure that their arrangement takes full advantage of the view.
Also, by establishing an indoor/outdoor kitchen area, dinner parties will be able to continue into the garden while still having access to all kitchen necessities.
10. Keep walls uncluttered for a relaxed, spacious kitchen.
Floor-level cabinets are perfect for a kitchen that needs to seem cosy and small. As a result, you might need to think about pantry ideas to make sure there is enough storage. But the final outcome, which will feel much more like a living area than a functional room, will surely make up for the loss of storage space.
11. Know where to save and spend money
Knowing how much setting up a new kitchen costs might help you plan where to spend and where to cut expenditures right away. Cabinets should be the main attraction of your kitchen, therefore we advise spending money on custom, made-to-measure options. You can save money on worktops, appliances, and flooring without compromising the form and functionality of your kitchen.
Pro tip: Kitchens look great with glass finishes. Glazed cabinets not only maximise the flow of light into darker corners, but they also break up the monotony of wooden doors. Glazed cabinets are also great for seeing what you have and where you've stored items, making it simple to access everyday essentials.
12. Have a well-planned lighting scheme
Ordinary kitchen design concepts can be transformed into something genuinely amazing with the use of a brilliant lighting plan. Our kitchen lighting designs must change to accommodate dining, lounging, working, or even entertaining as modern-day kitchens serve multiple purposes.
Lighting that is strategically placed can also cover up a variety of sins, such as making a small kitchen appear larger, hiding unattractive architecture, or making up for inadequate natural light.
13. Choose a U-shaped design for maximum practicality
Smaller kitchens typically have U-shaped kitchen layouts designed to maximise storage and workspace in a limited area. The "working triangle" concept is put to good use in a U-shaped kitchen, which makes using the kitchen as efficient as possible.
The optimal configuration is to place your refrigerator, oven, and sink on different sides of the U.
14. Blur the lines
In recent years, the concept of open-plan living has become increasingly popular. Although the kitchen has always been referred to as the hub of the house, this room is now used for more than just cooking.
In a modern setup, an open-concept kitchen can serve as a dining room, workspace, gathering place for friends and family, and more. With a patio for outdoor dining, the space directly outside the kitchen is evolving into kitchen territory. For example, having one wall of the kitchen be totally made of glass or with wide doors that fold or slide. The kitchen and living area feel more connected to the yard thanks to glass structures that let light flood the space. It is the simplest method to make effective use of outdoor space all year long.
15. Pay attention to details
A kitchen idea executed without paying attention to details will create problems in the long run. For example, if your kitchen features an extension as explained in the previous point, then it is crucial that you pay more attention to the materials you choose, for they will be exposed to the outside environment.
When it comes to flooring and cabinetry, choose durable materials that won't get bleached by the sunlight. Do remember that natural timber finishing will fade over time. Make sure kitchen appliances are properly ventilated, preferably with an extractor that is externally ventilated to help avoid steam buildup on windows.
Conclusion
A kitchen is where you start and end your day. It is where you prepare food to commemorate a significant achievement and create sweet memories with your loved ones.
At iCloudHomes, we have always pushed the envelope to open up a world of fascinating possibilities in order to fulfil our customers' demands for their kitchens to be extraordinary living places as well. This, coupled with a decade of unswerving passion and commitment to deliver one of the finest homes money can buy, has empowered us to be one of Kerala's most sought-after and trusted builders.
Take the first step towards owning a house and enjoying a lifestyle you have always desired. Send an email to marketing@icloudhomes.in for more information.